Last Updated on October 9, 2020 by Maite Aja
Saint Patrick's is a holiday marked in millions of people's calendars around the world. Celebrated every 17th of March, Saint Patrick's Day commemorates the death of the patron saint of Ireland (who was, in fact, British) and the arrival of Christianity to the country.
However, what began as a religious holiday in the 17th century is now a festivity that honors Irish heritage in any area with a significant Irish population. As it couldn't be any other way, typical celebratory activities include drinking and eating Irish foods, participating in parades, going to church, singing and dancing traditional Irish music. All accompanied by shamrocks and everything green.
If you want to take part in some of the most amazing festivals or you just want to satisfy your curiosity around this holiday, take a look at the following list. This is how the Irish celebrate Saint Patrick's Day around the world.
United States
Many people assume that celebrating Saint Patrick's Day was a tradition born in Ireland. Nonetheless, it actually originated in the United States. In fact, New York City's Saint Patrick's Day parade is the oldest, largest and longest in the world. First held in 1762, it now gathers around 200 thousand marchers every year and rallies over two million spectators in the streets. The parade goes through a 1'5-mile route along the 5th Avenue in Manhattan.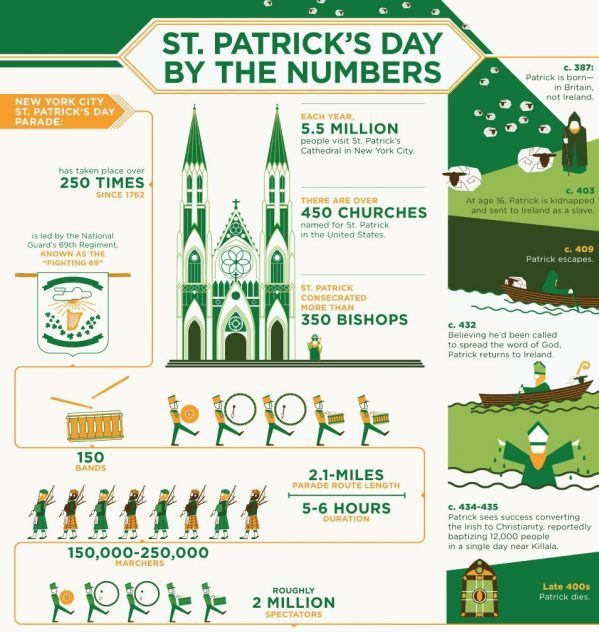 TAKEAWAY: As posted in this infographic by History and Column Five, there are 34'7 million US citizens with Irish ancestry, which is seven times the population of Ireland! This is due to the massive migratory movement by the Irish to America during the great potato famine of the 1840s in Ireland. Thousands of Irishmen and women settled in the US' east coast cities like New York and Boston and established their families there.
Chicago's Saint Patrick's Day downtown parade is another well-known celebration in the US. This festival is famous for dyeing the Chicago River green. Before the start of the parade, a boat releases around 40 lbs of special green dye into the river that turns the city itself into part of the celebration.
Ireland
In Ireland, Saint Patrick's Day is the most important national holiday of the year. That's why in Dublin it is celebrated with a five-day festival! This year, it goes from the 15th to the 19th of March. If you go into a pub during this holiday, you can't miss the opportunity to order a real Irish Guinness beer in one of the best beer cities in the world. You can toast by saying "sláinte!" which is the Gaelic word for "cheers!". Moreover, you might want to visit the Teeling Whiskey Distillery, which will host a comedy gig and a couple of foodie events to taste Irish craft whiskey, beer, cheese, popcorn, chocolate and more.
For a more cultural celebration, you can take a trip to Downpatrick in Northern Ireland. This is the town where Saint Patrick is buried and where he built his first church. Therefore, for Saint Patrick's Day, this small town organizes a ton of fun activities and family events.
Australia
Sydney's Saint Patrick's Day Parade and Family Day is another party to take into account. It is the largest festival in the southern hemisphere with more than 80.000 marching people. However, bear in mind that it always takes place on the third Sunday of the month, so this year is the 18th of March. At The Green Quarter in Moore Park, you will be able to find food and drink stalls, great Irish music and a children and family-friendly area. The Sydney Saint Patrick's Day parade is the only event that doesn't take place in Ireland organized and funded with the support of the Irish government.
Other Saint Patrick's Day Celebrations
While it would be impossible to mention all of the parades held around the world, here are some other famous Saint Patrick's Day Celebrations:
Auckland (New Zealand) holds the first parade of the day because it's located just after the International Date Line.
The Saint Patrick's Day party in Buenos Aires (Argentina) is the biggest of South America since this country has the 5th largest Irish community in the world.
The tiny Caribbean island of Montserrat also considers Saint Patrick's a public holiday. Though they celebrate it as the day the slaves revolted for their independence from Europeans (most of whom were Irish).
In Tokyo (Japan), even dogs of the Irish Setter's breed participate in the parade.
As you can see, millions of people (not necessarily Irish or of Irish descent) celebrate Saint Patrick's Day every year. Cities from all over the world turn their landscapes green to celebrate Irish heritage, and friends and communities gather to march at their local parade. Lots of delicious food and Irish drinks are never lacking, of course. So if you are attending a Saint Patrick's Day festivity this year, just dress in green, add some lucky shamrocks to your outfit and get ready to have lots of fun!