Last Updated on August 14, 2023
Despite being based on a single idea, theme parks present exciting possibilities to visitors. Here, they can see different things, take exciting rides, and do more. As far as the United Arab Emirates (UAE) is concerned, it has some of the best theme parks across the globe. The best part about theme parks in UAE is that they differ from one another. As a result, its theme parks promise an invaluable experience to visitors.
Best Theme Parks in UAE
Are you planning to visit the UAE with your kids to check out its top theme parks? To help you visit the best ones, here's a list of the best theme parks in the United Arab Emirates.
1. Motiongate Dubai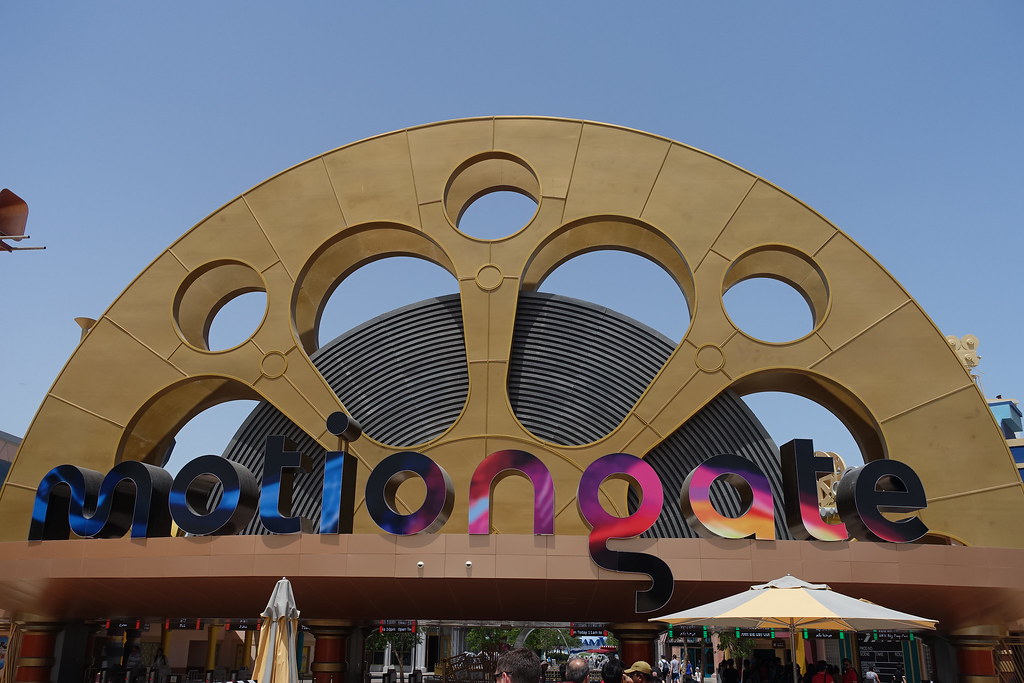 Do Hollywood movies draw your attention? If yes, a visit to Motiongate Dubai will enrich your experience and also broaden your understanding of the global movie industry based in Los Angeles, California. It will give you a glimpse of famous movie studios like Lionsgate Studios, DreamWorks Studios, and Columbia Pictures Studios.
On entering the theme park, you'd feel as if you have entered into a world of Hollywood movie sets. By spending some time here, you will come to know how some of the scenes of your favorite Hollywood movies were shot. Other than this, Motiongate Dubai also has dedicated sections based on different characters and movies.
Motiongate Timings: Saturday to Wednesday (summers): 12 pm to 8:30 pm, Saturday to Wednesday (winters): 12 pm to 9 pm, Thursday (summer): 12 pm to 9:30 pm, Thursday (winter): 12 pm to 10 pm
Motiongate Dubai Tickets: Entry fee for a day – AED 245, an annual pass – AED 345, an annual pass for all parks – AED 595
Zones to explore: Columbia Pictures Studio Zone, DreamWorks Studio Zone, Lionsgate Studio Zone, and Smurfs Village Zone.
Motiongate Dubai Rides:Melmal-Go-Round, Penguin Air, Fountain of Dreams, Madagascar Mad Pursuit, and Dragon Gliders.
2. Ferrari World, Abu Dhabi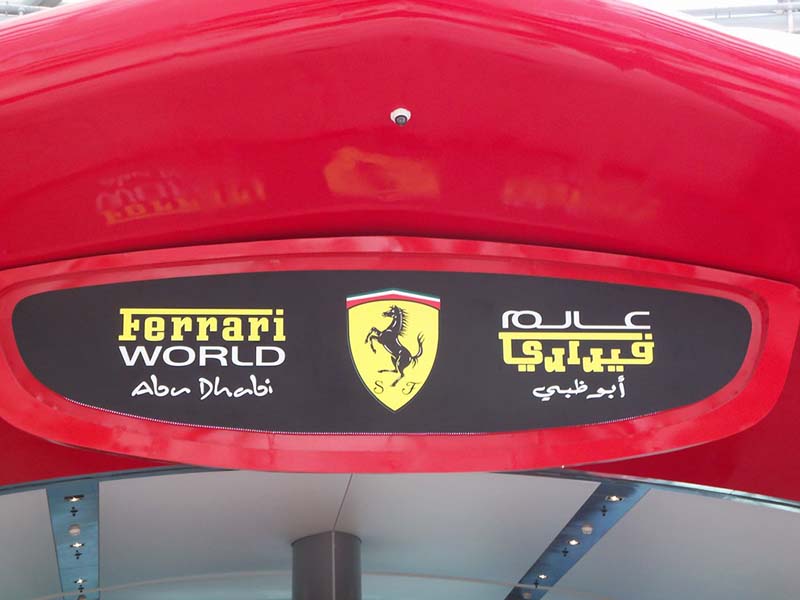 As a theme park, Ferrari World is popular for its two attributes: its thrilling rides that make for adrenaline-pumping experiences and a wide range of other offerings for visitors. Here, you can also purchase racing memorabilia of the highest quality. Besides, you can also explore electric go-karts, witness live performances, and check out state-of-the-art simulators.
Ferrari World is the most prominent indoor theme park from the standpoint of Ferrari-themed attractions and rides. This Yas Island-based themed park has some of the best-themed rides. You could head to one of the Italian restaurants located here if you are fond of Italian cuisine.
Timings: 11 am to 10 pm
Entry fee: AED 295 to AED 2950
Rides: The Formula Rossa, the Flying Aces, The Fiorano GT Challenge
3. Warner Bros. World, Abu Dhabi
With several shops, 7-star restaurants, and 29 rides, Warner Bros. World is an amazing indoor amusement park in Abu Dhabi. By visiting it, you can witness some thrilling shows in a fully air-conditioned environment.
The theme park has six distinct themed areas that offer an immersive experience to its visitors. These include Warner Bros. Plaza, Bedrock, Cartoon Junction and Dynamite Gulch, Gotham City, and Metropolis. The latter one involves Batman, Spiderman, and other popular DC characters.
Timings: Saturday to Wednesday – 10 am to 8 pm, and Thursday to Friday – 10 am to 10 pm
Entry Fee: Children – AED 230, and Adults – AED 293
Attractions and Rides: The Flinstones Bedrock River Adventure, The Jetsons Cosmic Orbiter, Fast and Furry-ous, Scooby-Doo – The Museum of Mysteries, Tom and Jerry Swiss Cheese Spin, Batman Knight Fight, Tweety Wild Wockets, The Joker Funhouse, Teen Titans Training Academy, and Cartoon Junction Carousel.
Food and Beverages: Park Ridge Market, Ace O'Clubs, Jitters Coffee and Snacks, Gotham City's Finest, Hall of Doom, Mammoth Munchies, Bronto Burgers and Ribs, Celebrity Scoop, Hollywood Trattoria, The Starlight, ACME Commissary, and Huckleberry Hound Pies.
Warner Bros World Shows: DC Super Heroes in Training, The Joker Surprise Party, Warners Bros. Cinema Spectacular, Meet Bung!,and ACME Beats.
4. IMG Worlds of Adventure, Dubai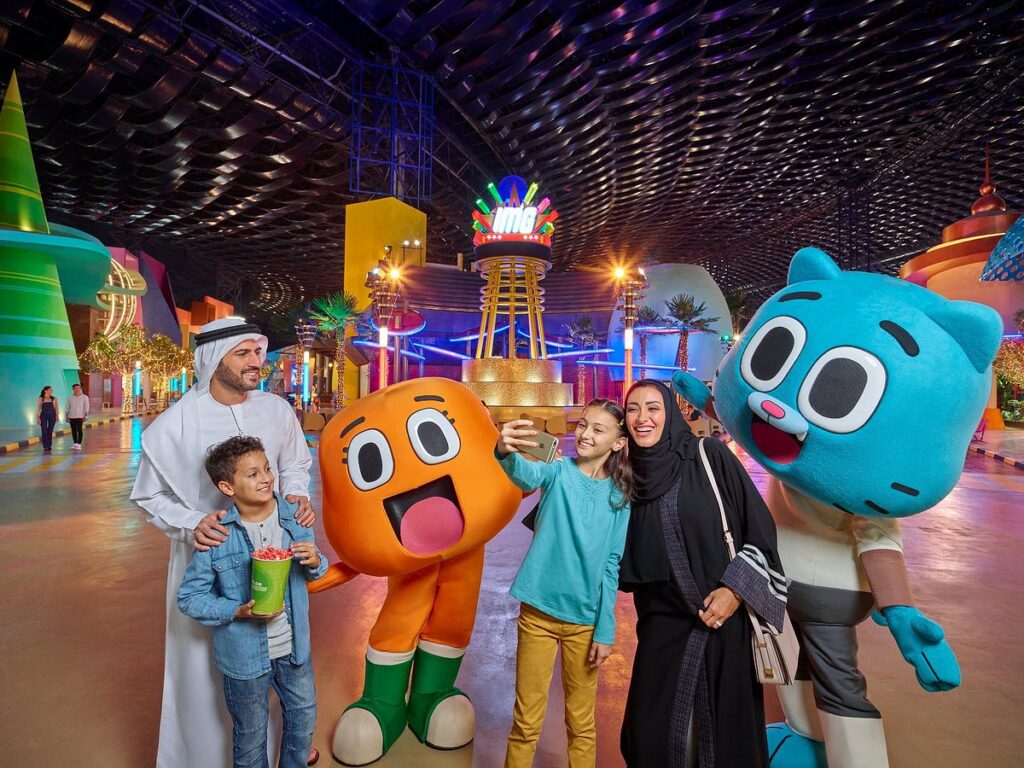 Located in the heart of the desert city, IMG Worlds of Adventure offers world-class entertainment with top-notch amenities. The mega indoor theme park is spread across an area of 1.5 million sq. ft. It is the hub of many entertaining shows with Disney, DC, and other popular characters, and other attractive rides.
Timings: Sunday to Wednesday – 11 am to 8 pm, Thursday to Saturday – 11 am to 9 pm
Entry fee: AED 158 to AED 258
Rides and experiences: Marvel Zone, CN Zone, Lost Valley, IMG Boulevard
5. Yas Waterworld, Abu Dhabi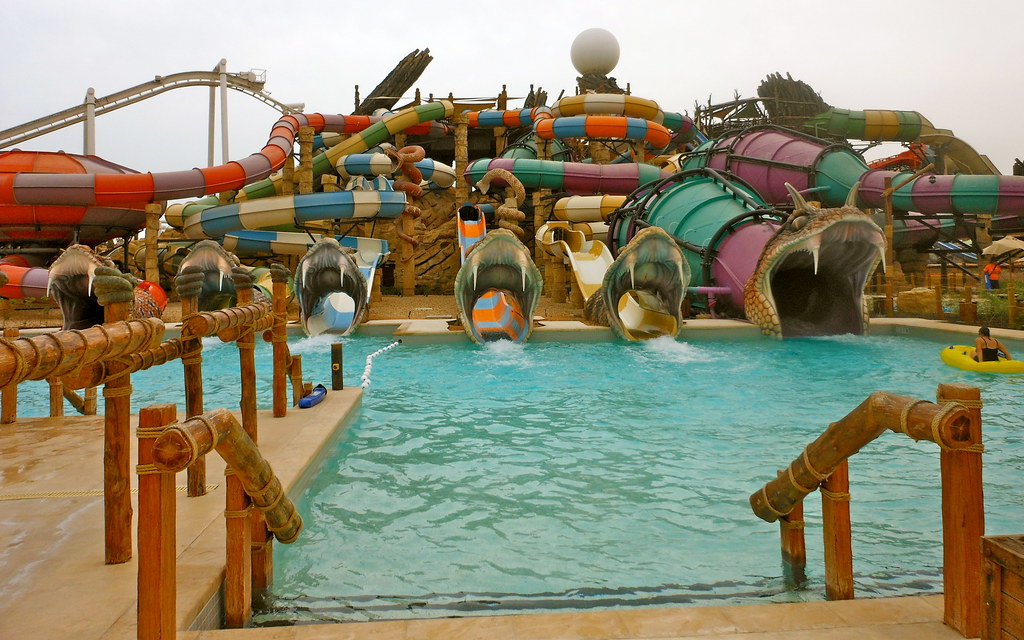 With 40 unique and exciting slides and rides, Yas WaterWorld in Abu Dhabi is a top waterpark in which entertainment is guaranteed for both kids and adults alike. It has a dedicated children's play area, which is loaded with many activities. Due to this feature, most visitors consider it one of the leading choices among waterparks for kids activities in Abu Dhabi. Also known for its cafes and restaurants, it also offers a locker facility. You can keep your valuables safely in a locker and enjoy your stay in the water park without worrying about security concerns.
Timings: Winters – 10 am to 6 pm, Summers – 10 am to 8 pm
Entry fee: EAD 250 (approximately)
Rides: The Bandit Bomber, Jebel Dana, Bubble's Barrel, Dawwama, Lazy River, Yadi Yas, Liwa Loop, the Legend of the Lost Park, and Wave Pools
Food & Beverages: Arabic delicacies, ice cream, meals, snacks, and private dining options for families.
Final Thoughts
Together with the above theme parks, there are also other themeparks in the UAE to which you may want to go. If you are on an extended trip to the UAE, you can visit the other themed parks as well. Keep sufficient time in hand while heading to them for an enthralling and fun-filled experience. Also, keep the weather settings in mind and plan your visit accordingly. Though you do not need to worry about it if you are planning to go to one of the indoor-themed parks, it will be necessary for those that do not have indoor settings.
In conclusion, the UAE stands as a thrilling playground for both locals and visitors alike, offering a captivating array of theme parks that cater to all ages and interests. From the adrenaline-pumping rides at Ferrari World to the enchanting adventures in Motiongate Dubai, the country has successfully transformed its landscape into a realm of entertainment and wonder. As travelers seek unforgettable experiences, these theme parks continue to be a cornerstone of the UAE's tourism industry. Whether you're a fan of heart-stopping roller coasters, immersive storytelling, or simply want to indulge your taste buds, the UAE's theme parks have it all. So, if you're planning your next adventure to this vibrant destination, don't forget to explore the myriad Dubai Tour Packages that effortlessly combine the magic of these theme parks with the beauty and luxury of the city itself.