Last Updated on March 29, 2023
Sushi is not the hard, stale rice balls which have been sitting out in an American buffet. It is not made with canned tuna mixed with too much mayonnaise, then wrapped with a piece of seaweed. And it is most certainly not cucumbers and imitation crab with rice on the outside of the roll, served in the plastic containers you buy from the small "Sushi" section in your neighborhood deli. Japan's most iconic dish is on a whole different level.
Sushi is an art
Not only do itamae, sushi chefs, craft this food into a visually appealing display, but each bite of this kind of raw fish is also meant to explode into the many flavors of washoku. Taste buds roam into a paradise filled with sweet and savory and everything in between. This famous cuisine has traveled all around the world with each country adapting the dish into something of their own.
However, if you are looking for the traditional sushi experience, perhaps this guide, "Food as Art", from the Japanese hotel Swissotel Nankai, in Osaka, can help you. In order to assist guests in maneuvering throughout sushi restaurants, the Swissotel Nankai created highlights to everything about this cuisine. From the chefs, the food and mannerisms, to the kitchens of Japan, you will know everything.
The itamae
First and foremost, the guide introduces the ring leader, the itamae. These chefs persevere through many years of intensive training in order to become a master of this food. Patience, dexterity, knife mastery and confidence only start the list of ingredients to make the perfect itamae. Thinking about becoming a sushi chef yourself? The traditional yet stern way of learning is not the only way; numerous chefs learn in specialized academies but also choose to self-teach. And although they always start with cleaning fish guts, all apprentices look forward to the day they become the head of the kitchen.

Types of sushi
Then the real star appears—sushi! With captivating, colorful images, Swissotel Nankai describes each of the eight different types of this meal with short blurbs and fun facts. These accurate illustrations help identify the kinds you could find in any specialized establishment. If you have already visited a restaurant, perhaps you can name some of your favorite kinds of sushi. (For me, Nigirizushi is the most delicious!)
Table etiquette
Scrolling down, the guide teaches you the etiquette within a traditional Japanese sushi eatery. So, that way, everyone has a pleasant experience (especially the itamae,) including how to be polite, how to order, and how to eat, as well as the reasoning behind these customs. (Although I eat sushi and miso soup often, I didn't realize that it was meant to "aid in digestion").
Oh, and don't worry! I know eating with chopsticks can be difficult (even impossible) for some people, so have no fear!
TAKEAWAY: This guide says it is totally acceptable to eat with your hands—the best utensils of all. But if you do attempt to use ohashi, chopsticks, avoid stabbing and skewering the sushi as this is a sign of disrespect and also a symbol of death.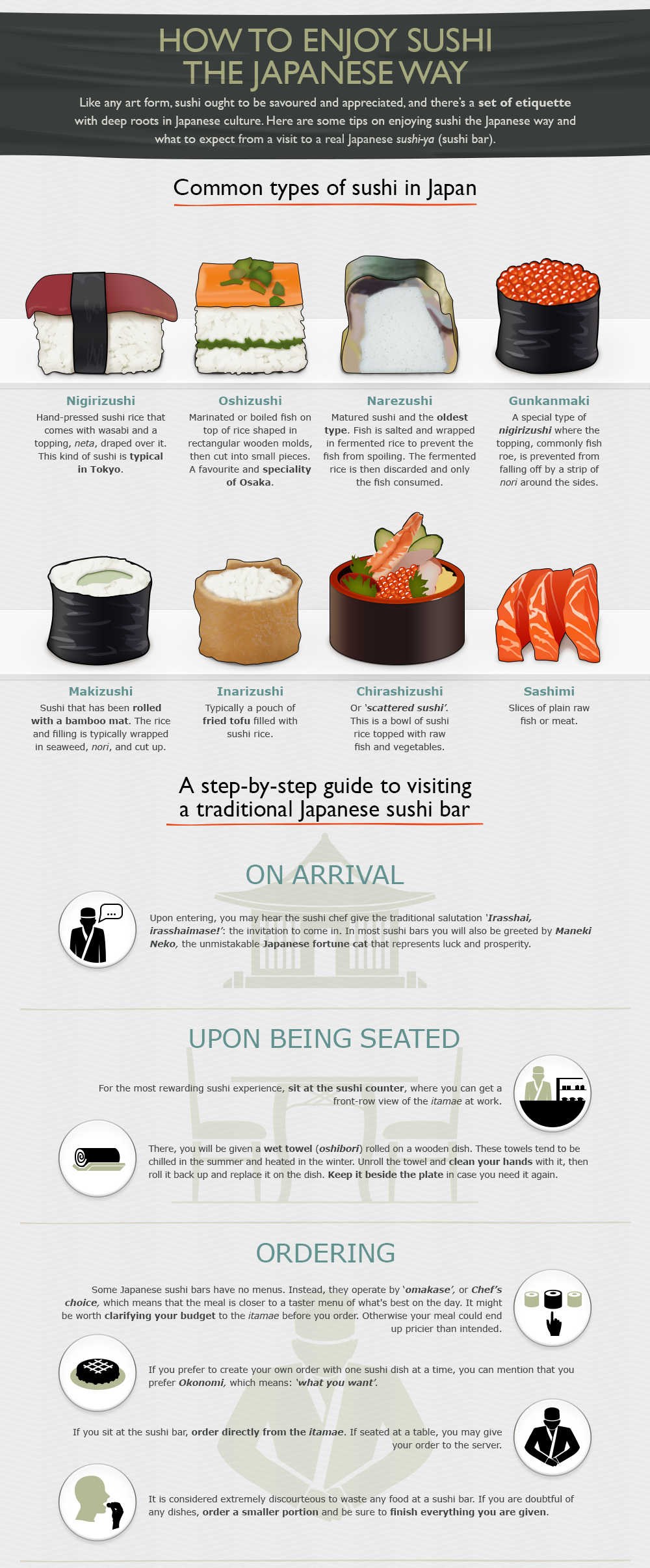 Kaiten sushi
If you prefer to eat in a not so traditional environment, there are also casual restaurants where sushi glides along a conveyor belt while customers sit within reach at a bar or booth. They are called kaiten sushi. "Sushi train" eateries (the name my family refers to them as), have digital menus where any customer can click the image of what they want and, soon, the selected dish appears around the corner, on the conveyor belt. Like magic! This informal atmosphere has you refill your own tea with no interaction with the itamae, since they are in the back reading orders on screens.
To finish off the guide, Swissotel Nankai explains a brief summary of sushi-eating in Japan. They also mention the name of Japan's oldest sushi establishment. (But I won't tell you now; go read it for yourself!).

"Food as Art" is more of a guide for formal and traditional sushi restaurants. Nonetheless, aspects such as the way to eat this food will still help you be a respectable customer in casual settings. So now, go enjoy the guide! Soon you will be able to master the mannerisms and culture of a traditional sushi establishment and become its' best customer!