Last Updated on March 24, 2023
Bangkok is considered heaven for food lovers and caters to almost every taste. Fine dining is one way to enjoy food but the real fun lies in tasting the street food. Eating around the small food stalls you find in markets and street corners is a great culinary experience. The world of Bangkok's street food can be extremely exciting and sometimes a little bewildering. All across the city, you will find cheap and delicious Thai food serving in pop-up stalls, food trolleys or at a small table on the pavements. In the morning, stalls selling coffee and Chinese doughnuts spring up while evenings are laced with the fresh aroma of stir-fried vegetables and roasted meats.
TAKEAWAY: However, on april 2017, Bangkok's governor, Wanlop Suwandee, was quoted "announcing" a ban on street food vendors in this culinary capital. Foodies from all over the world rebelled against this, and Suwandee rectified saying they were only trying to regulate this street food empire. The objective is to have better hygienic conditions, cleaner streets and to reduce traffic congestion. But we will have to see how this whole situation unfolds.
Thai cuisine is a complete treat for the senses. It is a striking balance of sweet, sour and spicy, and Thai dishes are a blend of all these tantalizing flavors. Fresh ingredients are used, and fragrances are enhanced using lemongrass, kaffir lime, chilies and fish sauce. Heavily influenced by the neighboring countries like Vietnam, Cambodia, Indonesia, and China, Thai meals usually include sticky rice, Nam Prik (a type of spicy chili paste), fresh vegetables, and soup.
The best way to taste any country's food is to go local and eat where the locals do. It is hard not to find a street corner lined up with diners selling noodle soup, fish cakes, and delicious curries. Street food in Bangkok is not only cheap but also safe to eat. Just make sure it's cooked in front of you, and fresh ingredients are used. However, not all areas of this food kingdom serve tasty food. So here is a list of places you must visit and the dishes you should try on your next visit to Bangkok.
Chinatown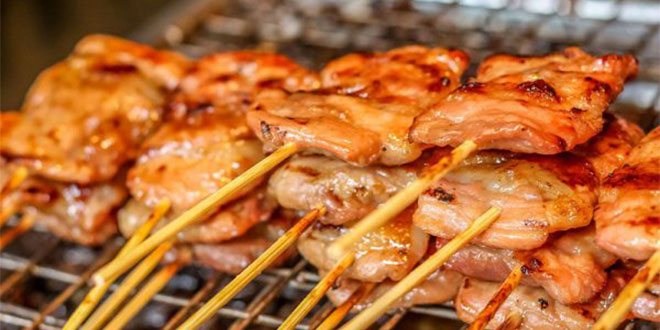 Referred to as Yaowarat among locals, Chinatown is the best place to eat some of the most delectable Thai and Chinese dishes. An exploration of the city's street food is incomplete without a trip to this area. A prime destination for food lovers, Chinatown offers the yummiest satay-grilled meat threaded on a bamboo stick and served with peanut sauce and an ajad of cucumber, shallots, and chilies in sugar syrup. Another dish that you must try is Jay Eng, meat laced with coconut and served with nutty flavor sauce. Barbequed seafood is especially popular and so are flat noodles served in pepper broth, dimsums and fruit desserts. Thai-style sukiyaki (noodles served with egg, seafood, chili sauce and pickled garlic) remains among the favorite street food of Bangkok. Best way to try the city's street food is to eat what looks and most importantly smells good to you.
Silom Road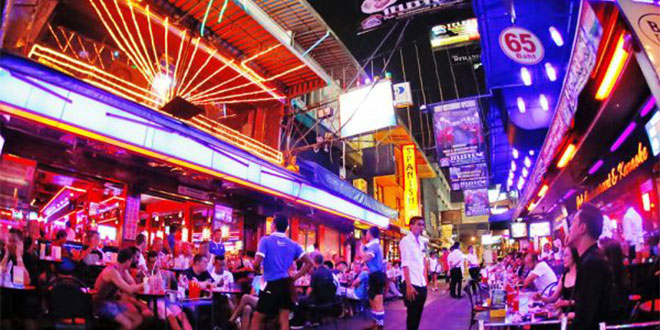 Considered the central district of Bangkok, Silom Road houses a number of quick-bite spots and gourmet destinations. It also features a handful of food stalls serving traditional dishes that not only taste great but also cost less. Dishes you must try include Khao Soy (curried egg noodles), Ped Thun (braised duck) and Bamee Asawin (egg dumplings). Khao Soy is a mix of Chinese-styled noodles with coconut milk curry and braised beef or chicken. Ped Thun, a roadside favorite, is of Chinese origin where juicy duck meat is braised with chili sauce. Then, it is served with white rice and bitter melon flavored broth.
Bamee Gua, although not on Silom road, offers extraordinary noodles. Either served with pork, chicken and fish meatballs or dumplings or pan-fried and topped with ham or chicken, they are all delicious.
Soi 38 Sukhumvit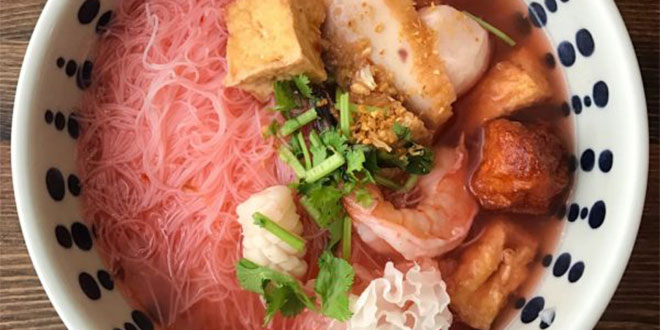 It is an upscale neighborhood full of expats and the finest sushi bars. However, Sukhumvit is also well-known for small food stalls serving some of the best street food in Bangkok. Must try dishes include mango sticky rice and a soup noodle dish called guaythiew pik gai. This is cooked in chicken broth and topped with peanut, green beans and chicken wings. Food from Thailand's north-east (Isaan) is most popular among locals because of its simplicity and spicy flavors. Try Isaan's popular dishes such as sticky rice, vegetable salad, and grilled chicken. Other Thai food standouts are guaythiew yen ta fo (soup noodles topped with fermented tofu broth) and pad krapao moo (rice served with minced pork stir-fried, chilies and holy basil).
Banglamphu or Old Town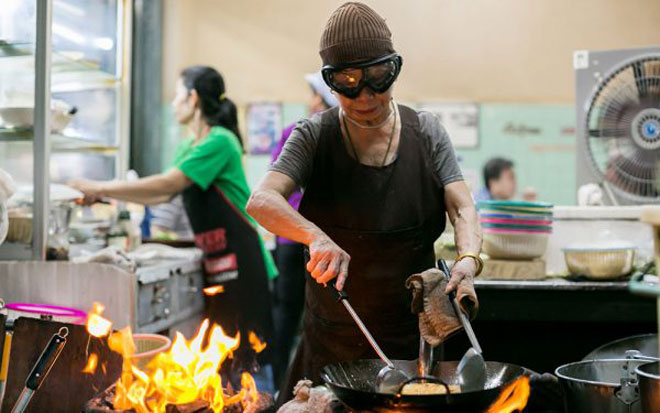 Bangkok's old town is named after the lamphu trees that once lined the region's canals. It is famous for old-style Thai street food which is hard to find anywhere else. Few of these vendors have been around for a decade having passed down culinary secrets and recipes to generations.
Khao gang (curry rice) is a famous breakfast and lunch option with a variety of curries and served with stir-fried vegetables. Gang kiew waan gai (green chicken curry) and Gang som goong (sour curry with shrimp) are some of the favorite curries that you must try while visiting the old town of Bangkok. Jai Fai is one of the city's finest cook, even if a little expensive. She specializes in stir-fried noodle dishes. Guay tiew pad kee mow (also known as "drunken noodles") is the most popular. If you love soups, you will love her spicy lemongrass soup which is served with seafood (tom yum talay).
Saphan Lueng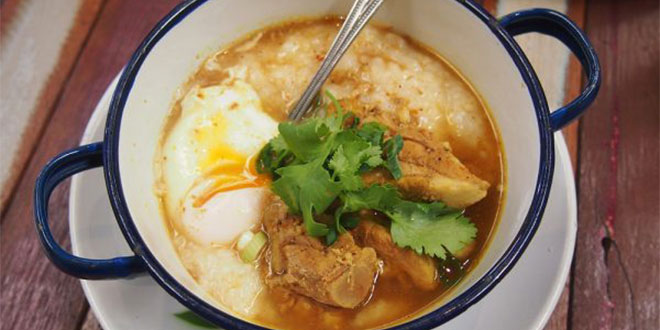 This yellow neighborhood has been long known among locals for its street food and made-to-order stalls. With its myriad of street vendors, dessert carts, and porridge shops, Saphan Lueng rivals Chinatown but without all the tourists. This area is especially popular among the young people of Bangkok. Thai-styled porridge that comes with many choices like oyster, seabass and pork kidney, is one of the most famous dishes among the city's locals. Spicy tart-water mimosa salad is another favorite. Must try dessert includes Kanom Pang Sankaya, a kind of steamed bread topped with coconut custard dipping sauce. Sangkaya Bread by Chai (soi 1) serves the yummiest Sangkaya sauce.
With all of these recommendations it's impossible for you not to enjoy your stay in Bangkok. As you have seen, all of these places offer the best street food in Thailand. The only question is if you'll have time to visit them all. And if you do and want to have a complete culinary experience, you should visit the floating markets. Here are some tips to visit the best floating markets in Bangkok.