Last Updated on March 22, 2023
Planning a visit to Greece soon? Food is an important part of Greek culture so it is imperative that you attempt to try everything! But depending on how long you stay, this list of Greek dishes should be on the top of your priority to try. I've included sit-down and street food meals, snacks, and desserts to finish it off. So read on, and make a note of everything you want to try.
Octopus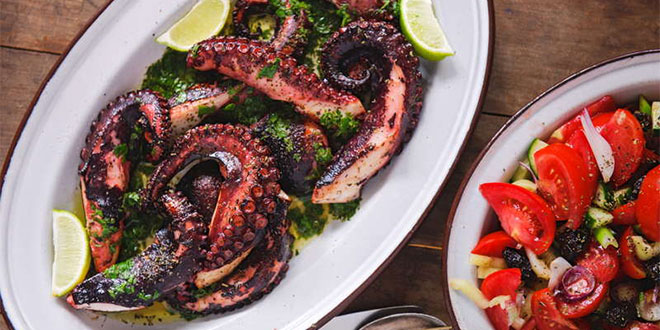 If you are a seafood lover or food adventurer, you must try the octopus. 'Octopi' are one of the most quintessential images of Greece, and there is always a variety of how it can be cooked. 'Octopi' can be grilled or marinated, served as stew or over pasta, or as an appetizer or main entrée. This is definitely on of the top must-try Greek dishes.
Dolmades
This healthy dish of stuffed grape leaves can be eaten as a snack or a meal. Dolmades are often served as a side to Greek salads and is fairly easy to make. They are delicious both warmed up or served cold. Inside the grape leaves is mincemeat with rice, thyme, dill, oregano, and/or pine nuts. The combination of the filling is really up to the establishment and chef.
Moussaka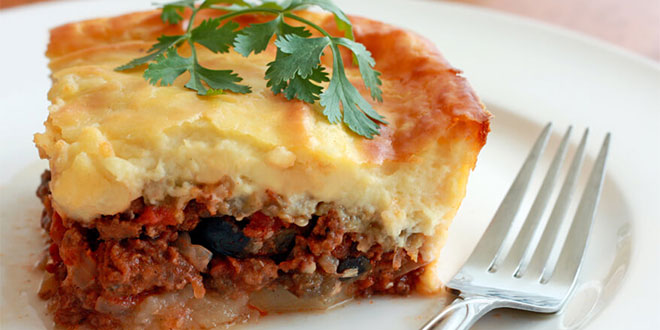 By looking at the image, it is easy to see that this Greek casserole does not have any noodles unlike a pastitsio. However, it is just as delicious!
Unlike pastitsio, moussaka is essentially lasagna without the pasta. Layered with meat sauce, eggplant, zucchini and a cream sauce, this casserole is full of spices and flavors that will create a party in your mouth. Variation of this dish may include fried pureed tomato, potato or topped with a layer of cheese.
Pastitsio
This is a classic pastitsio made with ziti pasta, beef and lamb sauce, béchamel and a ton of cheese. Commonly known as a Greek lasagna, pastitsio is a layered dish which alternates pasta with either lamb or beef, soaked in a tomato sauce. A creamier sauce, béchamel, commonly tops a traditional pastitsio. But feel free to pile on a layer of cheese for a gooey and scrumptious first bite!
Avgolemono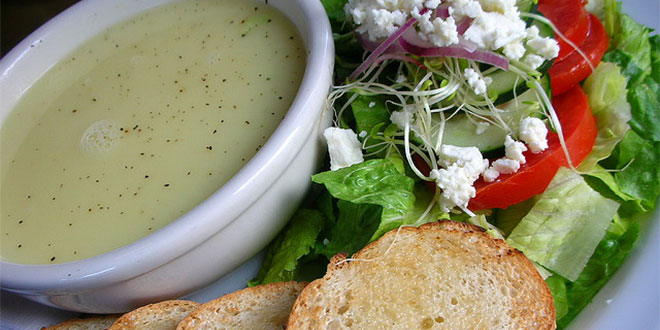 Often served as an appetizer, avgolemono is a traditional Greek soup made from chicken broth, eggs, lemon juice and rice or orzo. This citrus-rich, creamy soup can be served hot or cold—perfect for relaxing during the summer or warming up during the winter. It can be easily made at home and is served at most Greek restaurants.
Gyro
A gyro is a pita full of slices of meat (beef, lamb, or pork, sometimes a combination), tomatoes, lettuce, onions, olives, and other vegetables. Tzatziki sauce, made of Greek yogurt, cucumber and garlic, is often drizzled over the whole thing to add some zesty flavor. These are the perfect street food and are definitely quite filling. Depending on where you go, sometime you might need two hands to hold it!
Kebab
Often mistaken for a gyro, a kebab is kind of like an elongated, flat burger patty made up of packed, minced meat. This, too, is wrapped up into a pita and served with an array of condiments however the difference between this and a gyro is the meat. Don't let the minced meat fool you; it often has an array of flavors and spices.
Souvlaki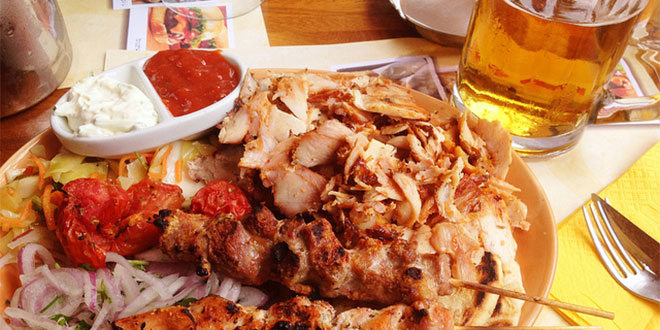 "Souvlaki," means skewer and with that knowledge, it comes as no surprise that this is just about any food grilled on a skewer. More commonly it is some kind of meat (pork, lamb, chicken etc) and then, like a gyro or kebab, is wrapped into a pita and garnished with sauce. However, they can also be served just as sticks of meat. This is a great food for kids as it generally is not that messy (especially without the sauce).
TAKEAWAY: Aside from the difference in meats, gyros, kebabs and souvlakis are all very similar and easy to eat on the go. If you are looking for a cleaner meal for the little ones, stay away from the saucy gyros and kebabs. Instead, find some delicious souvlaki on a stewer!
Loukoumades
Time for dessert! Competing with the famous honey-drizzled baklava you can find loukoumades. They can be described at Greek fried donut balls drenched in honey and sprinkled with cinnamon. Need I say more?
Baklava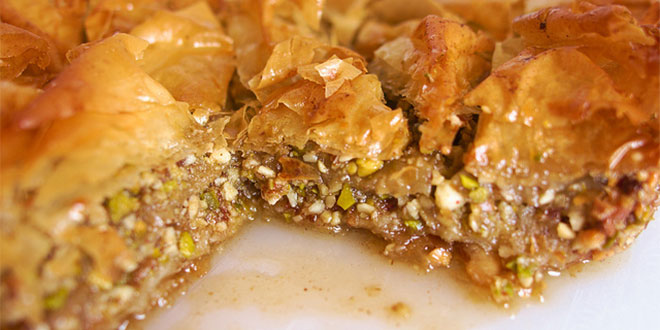 Aside from a combination of flavors, your tongue will also experience a variety of textures including sticky, flakey, and crunchy. In addition to being Greece's most iconic pastry, baklava is by far one of my favorite desserts I've ever tried. It is layered with flakey phyllo dough and a mixture comprised of ground walnuts, pistachios or pecans mixed with honey or sugar syrup. Your first bite of baklava will be crispy and moist, sweet and tangy, and sticky and satisfying.
One of the best things about Greek food is that it can cater to meat eaters, vegetarians, gluten free, and health-conscious foodies. While the meat lovers enjoy a gyro, the vegans can munch on baklava. So go on an adventure, ask around, and find out what goodies the Greek world around you holds. Don't leave Greece before you have tryied all this delicious Greek dishes.