Last Updated on March 13, 2023
Boston Calling is quickly becoming one of the largest music festivals in the United States. This past weekend, I spent three days hearing some of my favorite bands, discovering new artists, and of course, chowing down on some great festival food. The best part? Local food vendors from throughout the Boston area brought in all of the food at the festival. So if you find yourself drooling by the end of this article, have no fear. You can try all of the Boston Calling food the next time you find yourself in Boston!
The Tazon Bowl from Whole Heart Provisions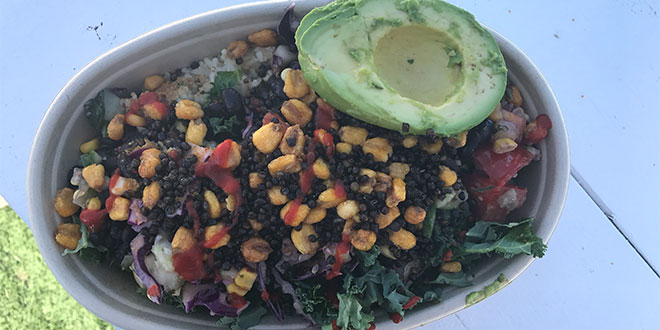 Aside from picking which bands to see, the most overwhelming choice one has to make at a music festival is what to eat for lunch. My friends and I made this choice easily when we walked by a girl eating a veggie bowl that looked like it belonged in an art museum. We asked where she got it, and she pointed us in the direction of Whole Heart Provisions, which offers what it calls "veggie-centric street food."
We ordered the Tazon bowl, a blend of rice, pineapple and corn salsa, Korean black beans, smashed cucumbers, pickled jalapeño, tomatoes, red cabbage slaw, corn nuts, and spice lime vinaigrette. And, of course, I added a fresh avocado. This thing was absolutely delicious. And as we ate, at least three more people stopped and asked us about our bowl. Food that looks great and tastes even better? A+ in my book.
Raspberry Crumble Ice Cream from FoMu
As someone who spent the majority of his high school years as an ice cream scooper, I know a thing or two about ice cream. And let me tell you, FoMu is the real deal. FoMu ice cream is "made from scratch with plant-based ingredients."
I was about to be totally boring and order a basic cup of Cookie Dough ice cream, but the server told me I had to try the Raspberry Crumble. I'm so glad I listened to him. This was the creamiest scoop of ice cream I've ever had in my life, and the occasional graham cracker crumble gave it just the right amount of crunch. This was the best way to end night one of my Boston Calling experience.
Chicken Tacos from El Pelon Taqueria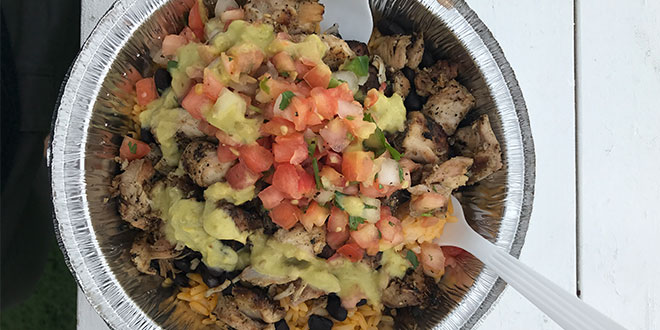 Tacos are quite literally my favorite food on this planet. So, when I saw a taco booth, it was game over. El Pelon offers fresh Mexican food for the entire family at two Boston locations. I had never heard of them before, but I have a feeling this is the first of many trips I'll be making there.
TAKEAWAY: To make things easy for festival-goers, the tacos were "build-your-own" style. Meaning, I was given a bowl filled with rice, black beans, deliciously seasoned chicken, and pico de gallo with two corn tortillas on the side. I added some of El Pelon's signature hot sauce on top to give it an extra kick. Be warned, this hot sauce is serious, so use it sparingly if you do make a visit.
English Muffin Pizza from Stone & Skillet
Forget everything you know about English muffins for a second. Stone & Skillet was serving English muffin pizzas all weekend, and these muffins are no joke. Biting into these mini pizzas was like biting into a cloud; I've never tasted an English muffin this fluffy. These pizzas were so good that approximately 3 minutes after finishing mine, I got right back in line to order a second.
Hot Sausage from The Sausage Guy
This one is a Boston Staple. If you've ever been to Fenway Park, you've seen The Sausage Guy's food stand on Lansdowne Street. Ever since I was a kid, I've preferred a hot sausage to a Fenway Frank hot dog, so seeing the Sausage Guy at Boston Calling was a huge deal for me.
You can order your sausage one of three ways: hot, sweet, or Bourbon. I always go with a hot sausage stacked with spicy peppers and served in a fresh, fluffy roll. You can't beat it!
FREE Avocado Toast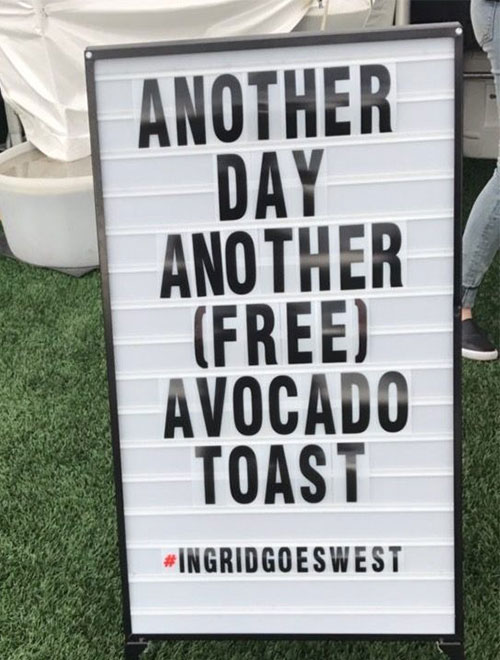 OK, this one is a total bonus. Leading up to the weekend, we'd heard rumors of free avocado toast being given out on festival grounds. After two days of searching and asking around, we still hadn't found the toast and assumed it was false.
Until day three. While walking along the different sponsor booths, we saw a booth promoting the new Aubrey Plaza movie, Ingrid Goes West. It turns out, they were the ones giving out free avocado toast! Let me tell you, the three-day wait was worth it. Fresh avocado was spread across rich, perfectly toasted pumpernickel bread. If you've been using plain old wheat bread for your avocado toast, give pumpernickel a try. It's an absolute game changer. Just trust me on this.
In addition to eating some amazing food, I got to see epic performances from Weezer, the 1975, Chance the Rapper, Tegan and Sara, and more! Although I'm sad to see my weekend of music, friends, and food come to an end, I am so happy to have discovered some new go-to places for food in Boston.
The next time you're at a music festival, be sure you check out the food lineup in addition to the music lineup. While you may discover your new favorite artist, you may also discover your new favorite food! And, if you're looking for a music festival to go to in 2018, I'd highly recommend Boston Calling for foodies and music junkies alike.